Last year, the Police, Crime and Sentencing Act was enshrined into UK law, and serious concerns were raised about how it could impact people's right to protest. In the face of seemingly rising activism across the country, from the Black Lives Matter movement in 2020 to Just Stop Oil and Extinction Rebellion's protests more recently, police have been granted more power to stop protests from happening. Not only that, but protest attendees may face much more severe consequences for attending or organising them.
Learning what your protest rights are and what action police are permitted to take can protect you from getting a criminal record or an unlawful conviction.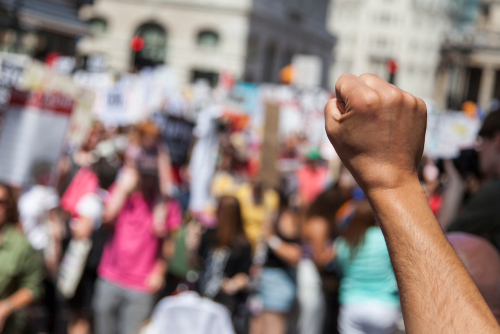 Is my right to protest protected by my human rights?
Your right to protest is protected by the European Convention on Human Rights. Article 10 – freedom of expression, and Article 11 – freedom of assembly, both protect your right to protest.
Furthermore, the Human Rights Act 1998 requires police to enable protests and act in accordance with your human rights. If those rights aren't respected you can make a claim in court.
What is the Police, Crime and Sentencing Act?
The policing bill was passed by the Houses of Parliament and entered UK law in April this year. The majority of public order provisions that directly affect protests were introduced more recently, on June 28th. The bill introduced more sweeping restrictions on protesting and harsher penalties, of up to 51 weeks in prison and unlimited fines, for failing to adhere to protest restrictions.
Police powers have dramatically increased. If they believe that a protest march may cause public disorder, damage property, disrupt the local community, or intimidate others, they can install limitations. What's more, the definition of what causes disruption has been significantly widened, and now includes:
significant delays in delivering time-sensitive items
prevention of individuals accessing essential goods, such as food, water, and money
Therefore, if a protest stops people from accessing a local shop or hinders a delivery service protestors could face criminal charges.
Will I face a conviction if my protest is noisy?
A controversial component of the new policing act is the restrictions on how much noise a protest can make. If the police believe a protest is too noisy and thus causing significant disruption, you may face a conviction or a fine. A protest is defined as too noisy if:
It disrupts a local organisation's activities
A reasonable person finds it to be harassing, intimidating, alarming or distressing
How do I find out if my protest is causing disruption?
An area of major concern around the new policing bill is the shifting parameters around the definition of disruption. The new legislation grants government ministers the power to redefine what qualifies as a major disruption to the local community and organisations. They are not required to pass these changes on to you, and instead, you are expected to find out on your own.
Critics argue this is an infringement on your right to protest, as arguably, anyone can be caught out whilst protesting. If the definition of disruption changes while you are protesting and you aren't aware, the consequences could be severe. Any ministerial changes apply to both marches and static demonstrations.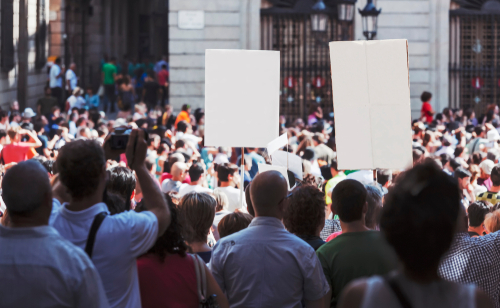 Where do I have the right to protest?
Unfortunately, under the new rules, the controlled area surrounding Downing Street and parliamentary buildings has been extended. In the controlled area, the right to protest is limited. Furthermore, any obstruction to vehicles moving in and out of the area is now an offence. This is understandably frustrating for many protestors who want their message to be heard by the government, so naturally would elect to march by their workplace.
Also, further legislation restricts the right to protest by blocking roads, as activists are banned from blocking a highway. The tactic has gained popularity in recent years, particularly among climate activist groups such as Just Stop Oil, who often combine the method with gluing themselves to the tarmac.
Regardless of whether the road is open or if it's already been closed by the police, under the new act protestors may face up to 51 weeks in prison and an unlimited fine.
Do public nuisance charges threaten my right to protest?
Under the new policing act, you can get charged with being a public nuisance and face up to 12 months in prison and an unlimited fine. A public nuisance is defined as actions that can cause serious harm, such as:
personal injury
death
damage to property
serious distress
serious annoyance
serious inconvenience
serious loss of amenities
The new definition is alarmingly broad and can include blocking the entrance to a building, making too much noise, and taking up public space.
You can only be found guilty of being a public nuisance if you intended your actions to cause serious harm, or you had no regard as to whether your actions would cause serious harm to others.
What consequences can I face for protesting?
If police impose conditions on a protest and you are found guilty of failing to adhere to them, you can face legal action. If you organised the protest you can get 51 weeks in prison and a fine of up to £2500. If you only attended the protest, you're unlikely to face prison time, but you can also be fined up to £2500. However, if you encouraged others to join you on the protest, you can receive up to 51 weeks of prison time and a fine of up to £2500.
It's crucial to note that even if the police did not explicitly inform you of the conditions imposed on a protest, you are expected to know them and can face prison time regardless.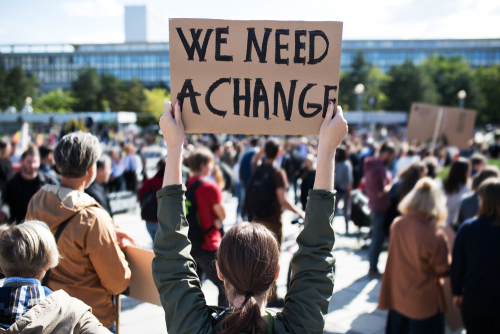 HNK Solicitors can help you if your right to protest was threatened
Here at HNK Solicitors, we understand how valuable your right to protest is and have the legal knowledge to help you defend it. If were unlawfully arrested at a protest, received a fine, or have a police complaint, we can help you through the process. We have a team of expert civil actions against police solicitors ready to help you make a claim.
We offer a no-win, no-fee service, so until you receive your compensation, you won't pay a penny.
Get in touch with us today, and we can get started on your claim. Simply head to our online claim form, drop us an email at enquiries@hnksolicitors.com, or give us a call on 0151 668 0812.