Inadequate vetting has allowed thousands of potentially dangerous officers to serve in police forces across England and Wales, a watchdog has found.
People with criminal records — including serious crime, strong family links to organised crime, and substantial, undischarged debt, were hired as police officers. Furthermore, staff were allowed to transfer between forces despite a history of allegations or complaints of misconduct and avoided being sacked for their actions.
The report from the HM Inspectorate of Constabulary Services also found a pervasive misogynist culture across all eight of the forces examined. Harassment towards female officers and members of the public was dismissed, and people with a history of domestic abuse-related assault and indecent exposure were allowed to join the police. Sexual assault incidents were covered up, and officers routinely engaged in unwarranted stops of women.
Over 11,000 officers across eight different forces, including the Metropolitan police, were looked at, and 725 vetting files were examined. A further 264 complaint and misconduct investigations were assessed.
The report found:
131 vetting decisions were highly questionable
Of those, investigators disagreed with 68 cases where clearance was granted
Less than 1% of officers with multiple complaints or allegations levelled against them were let go by the Met
The investigation was commissioned by Priti Patel whilst she was home secretary, following the kidnap, rape, and murder of Sarah Everard by Wayne Couzens. Couzens was a serving Met officer at the time, who used his police warrant card to arrest and kidnap her last year in March.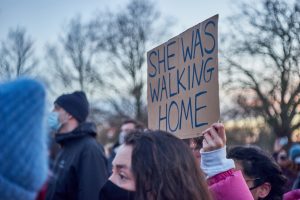 As it stands, "it is too easy for the wrong people to both join and stay in the police," said Matt Parr, The Inspector of the Constabulary. He continued: "if the police are to rebuild public trust and protect their own female officers and staff, vetting must be much more rigorous and sexual misconduct taken more seriously."
"It seems reasonable for me to say that over the last three or four years, the number of people recruited over whom we would raise significant questions is certainly in the hundreds, if not low thousands."
Some shocking examples of officers that were hired despite historical convictions include:
An officer that was hired despite being convicted of rape approximately 20 years prior
A support officer was hired after slapping his partner in the face
After robbing an 80-year-old woman, who was pushed to the ground and her handbag taken, an individual was able to pass police clearance and become an officer
A current officer was cleared to work with vulnerable people despite receiving a final warning for sending extremely sexually explicit and racist messages to a female co-worker
We can help you if you were discriminated against by the police
We understand how difficult it can be when the people put in place to keep you safe let you down, and how hard it is to know what to do next. The Equality Act 2010 makes it illegal for police to treat you differently based on your gender or any other protected characteristic. 
If you were the victim of police misconduct — whether as a member of the public or a fellow serving police officer, you can make a complaint directly to the police force in question. If the incident had a wide-reaching and serious impact on you, you may be entitled to compensation. To make a claim you will need to make a civil case against the police.
Here at HNK Solicitors, we have an expert team of civil actions against the police solicitors who can help. We provide a no-win, no-fee service, so until you receive compensation, you don't have to pay a penny. To discuss your case further, fill in our online form, and we'll get in touch. Alternatively, call us on 0151 203 1104 or email us at enquiries@hnksolicitors.com.